Welcome to the Telemann Collegium of Michaelstein!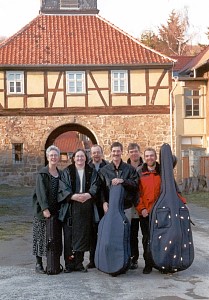 The TELEMANN COLLEGIUM OF MICHAELSTEIN was foundet by musicians of the Telemann Chamber Orchestra in 2001, for purpose of continuing with special dedication their work of past years in the discovery and performance of unknown works, in particular by Central German composers. Performance on historical instruments, research in musicological archives and libraries, and experimentation with the musical discourse of the particular period have enabled the ensemble to date to present previously unpublished works by "major and minor masters" of the seventeenth and eighteenth centuries as an "audible, living museum".
Based at the Michaelstein Cloister, the Collegium brings together specialist who involve themselves with all the fields of performance practice. Whether the standard repertoire, forgotten musical treasures, or combinations with dance and literature, the music of this interesting epoch, in its full variety of sound, leads to new possibilities for the conveying of sound.
The TELEMANN COLLEGIUM OF MICHAELSTEIN attaches special importance to the cantata oeuvre of Gottfried Heinrich Stölzel(1690-1745) an the works of Johann Heinrich Rolle and Georg Philipp Telemann. To meet the requirements of specific works, the size of the ensemble ranges from chamber groupings to an full size orchestral formation. The ensemble works under the leadership from the harpsichordist and conductor Ludger Remy.
A series of CD recordings on the international label cpo, radio productions on the MDR, and very highly regarded concerts (e. g. at Thuringian Bach Weeks, Bernau Early Music Festival and Bach Festival Leipzig) now attest to the path taken by the ensemble. It is in this respect and it this spirit that the TELEMANN COLLEGIUM OF MICHAELSTEIN regards itself as a musical ambassador of the baroque music land of Saxony-Anhalt.
The next projects are a Passion by Gottlob Harrer and CD recording of Cantatas by G. Ph. Telemann and G. H.Stölzel.